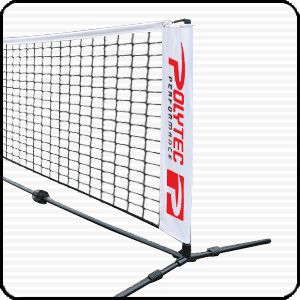 3 metre portable Minis Net
The Minis Portable Net allows for ease of portability through its light weight construction with increased stability unmatched by other similar products. The patented Spring Loaded Leg System provides unmatched durability and reduces the possibility of accidental breakage during play. This type of frame also allows for adaptation to varying terrain, enhancing its versatility and allowing for both in and outdoor use. The net mesh is structured from high grade fibres to ensure longevity. Each net is 3.0m in length, and can be used in single mini tennis application. Multiple nets can be easily connected in series to cater for larger playing groups and full court practice games.
The MINIS Net range is complimented with the MINIS 508 junior racquets, MINIS orange / green low compression ITF Stage 1 / 2 balls, and MINIS foam starter balls ITF Stage 3.
Related items:
All prices listed are in Australian dollars