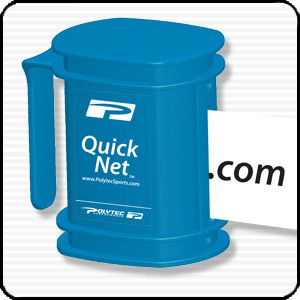 QuickNet
The perfect quick fix solution for netting. With patent pending, the QuickNet is designed to be used by professional coaches, or home users.
The system is a 6m long retractable net that comes packed in its own convenient carry bag, along with all attachment accessories for maximum versatility to allow it to work in almost every situation. Each end of the QuickNet can be attached in various ways:
1) The built in hook can be attached over an existing permanent court net post, or hooked into another portable net system. The hook can also be attached to any other structure such as a court fence.
2) A custom made base plate is included that can be attached using suction cups or screws to any flat surface. The hook then attaches into the base plate as shown.
3) If attaching to a round object such as a light pole or post, where the surface is round and where the hook or base plate cannot be used, the net has two velcro strips on each side that can be wrapped around the pole / post.
The QuickNet can be used alone, or in conjunction with the other Polytec 3m / 5.5m / 6m portable nets to create a longer continuous system.
All prices listed are in Australian dollars