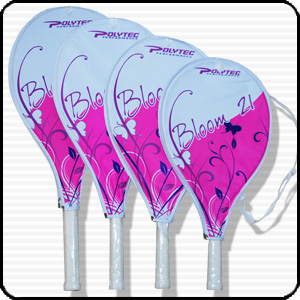 Junior - BLOOM
BLOOM JUNIOR RACQUETS

Premium quality junior racquets. New pink girls design with white grip to match. Top of the range features including high grade aluminium alloy O'Beam frame, mid-beam stabilizer for reduced vibration, high grade bumper guards, premium 3/4 cover with adjustable shoulder carry strap, and high grade handle with premium tacky grip.
Now includes the new 17inch and 19inch MICRO sizes! Never seen before sizes specially designed for those early starters from the Age of 3+.
Bloom Racquets are available in six sizes : 17 / 19 / 21 / 23 / 25 / 27inch.
All prices listed are in Australian dollars