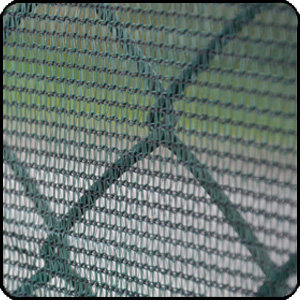 12m x 2m Windbreak with Springs
These high quality tennis court windbreaks are ideal for tennis clubs, sporting facilities, schools and private homes. Our products are manufactured to the highest industry benchmarks. They are made to last and represent incredibly good value for money. Many other products use a flat woven fibre which suffers a decreased lifespan, whilst our windbreaks use a superior rounded filament for increased durability.
Rather than using eyelets like many other companies, we use heavy duty fitting attachments in the form of straps and heavy duty springs, to ensure the windbreaks attach even more securely to your fencing in locations which require strong wind resistance.
Windbreaks are currently only produced in a Wimbledon Green (Dark Green) colour.
Our standard sized windbreaks are made to a 2.0m height x 12.0m width. Custom sizes can be made to your required length(s) at an additional cost.
For further information, or custom sized pricing options, contact Customer Service on (03) 9758 0777.
All prices listed are in Australian dollars